Food and drink go hand in hand, as Echo Park restaurateurs seem to be discovering. With a proliferation of new alcohol permits, the neighborhood maybe become a new nightlife destination for the urbane crowd.

When Mohawk Bend announced its plans last year to take over an empty theater on Sunset Boulevard, the news was met mainly with rejoicing, though a few persistent opponents did make the permitting process a bigger headache than usual for owner Tony Yanow. Now that the enormous (for the neighborhood) restaurant has opened, it's packed nightly with customers clamoring for craft cocktails, California wine, and the dozens of beers on tap (frankly, the food is currently a bit of an afterthought).

Read more here! Are you excited to see more restaurants with liquor licenses in Echo Park?
(Source: kcetliving)
Jeff Ellermeyer and Mitchell Frank went into business together years ago when they opened Malo, the Silver Lake restaurant and bar known specifically for its tortilla chips and salsas, and more generally for its Chicano recipes and preponderance of hipper-than-thou customers and servers. Mas Malo, their downtown location, just opened a few months ago after, literally, years of trying to open the place. The wait was worth it (at least for customers), as the space, a renovated, previously empty old Clifton's location, is gorgeous, and the bartenders are serving up some excellent drinks. We spoke with Ellermeyer and Frank about where they end up around the city.
How long have you had your eye on the Mas Malo space?
Jeff Ellermeyer: The offices for my production company Buck are located on the 4th floor of the building. We have been looking at the space for 5 years.
Why do you think permitting for bars and restaurants in LA takes so darn long?
JE: You got me why the city of Los Angeles paradoxically needs tax revenues while stalling new businesses. Someone should look into that.
Mitchell Frank: Too many cooks on the permitting side. Pre-expediting LADBS (Department of Building and Safety) was a nightmare. Needed 17 sign-offs and then each inspector can make changes. It made estimating costs difficult.
In other parts of the country–the world, even–a classic burger meal (burger, fries and a shake) is seen as something simple, so often associated with fast food and unhealthfulness.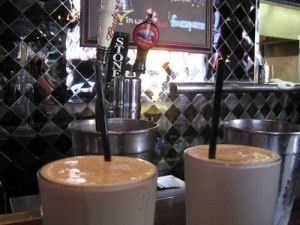 But Angelenos know better. In this city, the place that actually invented drive-thrus, burgers are an art form elevated with custom blends of meat and toppings like artisanal cheeses and heritage tomatoes and organic bacon. And now it's the milkshake's turn.
Where burgers are improved largely by the quality of the ingredients, these new wave milkshakes aren't just getting a makeover with expensive vanilla and rare brands of chocolate. Here, the special kick is alcohol.
More here. (This story entailed doing some of my raddest research yet.)
Steve Calabro has bounced around the world honing his bartending craft, but he always manages to come back to Los Angeles. Right now he's slinging drinks at Red O, the Rick Bayless-affiliated restaurant that serves an upscale take on Mexican classics. (And yes, presenting your cocktails in a tryout session with a world-famous chef is indeed terrifying.) He shared with us the silliest drink he's ever sold, what he's got on tap for Cinco de Mayo weekend, and the whole deal with the bouncers at Red O.


Were you always a phenom with cocktails?
At first, I was doing nothing but making mistakes. Which is great, because now I know the wrong answers. But then people started coming back. I had repeat customers, people who came just for my drinks.

You've worked at bars all over the U.S., New Zealand, Czech Republic … besides being fun, has that helped with your bartending education?
Everywhere you go, people have different palates. It's great to learn what people want. There are two kinds of bartenders: those kids who just want to party, and people who really care what their customers like. When I give someone a drink, I watch their reaction.

Can you tell what someone's going to order before they open their mouth?
The worst thing I can do is judge my customers. I've had guys who look like they just stepped off a bus who've thrown down American Express black cards. You can't judge customers at all by how they look; You don't know what they're going to drink.

Do you ever have to make a drink you don't want to?
One person ordered margaritas for the table with the most expensive tequila we have. Those margaritas were $150 each. That order's all about ego. But if they want it, I'll happily give it to them. Well, within reason. I don't want to serve someone six drinks. Alcohol kills if you don't respect it.
When Sbarro, one of the country's largest pizza peddlers, filed bankruptcy in April, there was some panic about it marking the end of Italian food in the U.S. It was the third pizza chain in under a year to do so. Maybe the panic, if only about cheaper, mass-produced pizza, was well-founded. But in L.A., Italian food is becoming ever more popular and sophisticated all the time. Here are five joints that have opened — or just stepped up their game — in the last two months alone.


Il Sole: Long a celebrity-heavy Sunset Strip staple, Il Sole closed down for a few months for an overhaul. Though Brent Bolthouse, he of "The Hills" and other somewhat douchey affiliations, is now part-owner, the restaurant has improved for both scenesters (same crowd, prettier decor) and foodies (seafood linguini, pappardelle al ragu) alike. And, get this: they've lowered the price point.
8741 Sunset Blvd., West Hollywood; 310-657-1182

Mother Dough: With a very small menu in an equally small storefront, Mother Dough certainly seems to understand the Italian approach to neighborhood restaurants. A half-dozen simple, thin-crust pizzas coming out of a wood burning oven, a couple appetizers and desserts, no big thing. Its location does make for a wait on weekends, though.
4648 Hollywood Blvd.; 323-644-2885
Bigfoot Lodge's westward younger sibling, deftly named Bigfoot West, has become the more interesting of the two properties lately. It does have the camping-themed drinks the brand is known for — like the Toasted Marshmallow and the Girl Scout Cookie — but now there is way more exciting stuff on offer. And it's cheap for Happy Hour!


Every day from 5pm to 9pm, Bigfoot West has $5 cocktails, classic concoctions such as gin gimlets, Old Fashioneds and Manhattans. The drinks fit with the woodsy, totem pole-bedecked decor (you could camp here if it were a bit quieter).

Bigfoot goes a bit overboard with the Sailor Jerry, a newer rum brand that's pushing quite hard right now to become the hipster pirate booze of choice. But there's nothing wrong with it — especially at $5.
Cliff's Edge is one of Silver Lake's standbys — good for a first date or even a parents' visit. The food is fine; there's a wine list and cocktails. But the comestibles were never the reason for coming to Cliff's Edge: It's all about that otherworldly back patio, just steps off of Sunset Boulevard and yet perfectly free of the sound of traffic, lit up with candles and tealights, decorated with giant seashells and brightly embroidered pillows. The space is an L.A. treasure.


For all of its cool-kid cred, Sunset Junction isn't the greatest neighborhood for drinking. No locals go to Tantra or 4100 Bar (it's almost a mystery their doors are still open), and El Conquistador is reserved for those special occasions when you want to get so smashed off one margarita that you can't feel your face for three days. The cocktails at Cliff's Edge were always acceptable, but patrons were never allowed to sit at a table and just order drinks. Loitering over a shared appetizer certainly wasn't encouraged.

Thank goodness co-owner Dana Hollister has decided to make some changes. (The developer has her hands in about a million projects at any given time, and she's got an excellent track record— you like Villains Tavern, don't you?) We've learned of three major changes that her team is working on for a Cliff's Edge intervention — all to be finished by the middle of May: